Bali Jewelry Bali Accessories By www.Jewelryindonesia.com
Jewelry and accessories from Bali Indonesia. Jewellery and accessory made of beads, pearl shells and other natural materials such as stones, wood, coconut shells etc. Cheap necklaces, chokers, bracelets and body piercing jewellery. Bone and horn plugs, earrings or expander.
WE SELL QUALITY FASHION JEWELRY AT CHEAP PRICE !!!
We're manufacturer of fashion accessories. Buy from us and get factory direct price.
Testimonials Page 1 | Testimonials Page 2 | Testimonials Page 3 | Testimonials Page 4
You're here: Page 1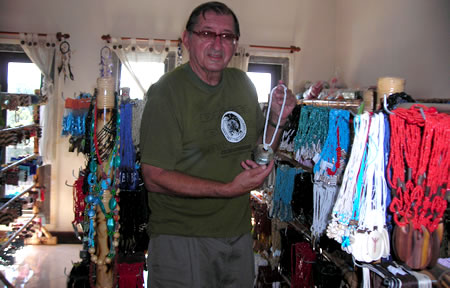 Visiting buyer to our showroom
Please read below what our costumers said about us. These only few, many more available.
We've been selling online since 2001. We've been doing business locally long before we know the internet. Only recently we made our costumers feedback online.

Hi Ferdi.
We received and unpacked our order yesterday.
We are extremely pleased with our order the quality and packaging are excellent, well done.
this is from Mr. Neil B in UK

DEAR EDDY:
I got the order today, and everything looks good.
This is from Mr. Brown Florida 32204 USA

Dear Ferdi,
Thanks a lot for everything. we received the goods. All looks good.
It was nice doing business with you and am looking forward to order again soon.
Best Regards,
This is from Mr. Munesh K in the Caribbean

Dear Sir,
The order arrived yesterday, and on the whole I am quite satisfied.
The quality of the polish is excellent. The engraving work is excellent.
Thanks again,
This is from Mr. Jacob L of Axxxxx Imports

Hello Eddy,
Finally, I am able to contact you. Thank you for your well organized
shipment of jewellery, everything arrived very well packed and undamaged
from the freight. I will send you my new order requirements in a few hours.
Thanks.
This is from Mrs. Pat L in Canada

Dear Mr Aziz,
Thank you very much, we have received our order and the product looks
good. We will let you know how it goes.

Kind Regards
Edward from UK

---
Even more testimonials, read below:

We have received your shipment and are very pleased.
The packaging was excellent and nothing was damaged.
Thank you,
Mrs. Sally B of XXXX Bay Trading Co

Dear Sir
Thank you very much much for the delivery.
Today all was coming. We are very
happy with your products!
We wish you a good New Year and all the best!
Thank you for all!
Best regards
from Mr.Kaspar M of Switzerland

Dear Sir,
How are you? Yes I got the goods.
Thanks a lot. All looks good.
Best Regards,
Munesh (from Caribean)


MAY 2011

Hi Ferdi, I have received your DHL Shipment.everything is complete and very well made.I thank you and your craftsmen and craftswomen for such good work Only one thing I would like to ask of you, the bottom ring of the earring hook needs to be turned to the other side so that it can hang correctly. I will send you a photo so you can understand. regards daniel (Honduras)

THE BEST TESTIMONIAL FROM MEXICO !!!
"I sold the order you sent in less than 2 hours"
from Mr.Eduardo G. in Cancun Mexico

Wow ! THIS IS THE BEST EMAIL FOR US !!!
THANK YOU VERY MUCH !!

Need more ??? read here for testimonial page 2
Our company CV MAYA is a company verified and registered company to Indonesian government through National Agency for Export Development (NAFED), a special service agency of the Ministry of Trade of Indonesia.
BACK TO JEWELRY INDONESIA COM HOME PAGE

Sea Shell Necklaces from Bali Indonesia. Shell fashion accessories from Indonesia. Browse our catalog of necklaces made of beads combined with cowry shells. Made to order. Wholesale only. Please browse our catalog and place your order now.
Bamboo straws from Indonesia. Organic and natural bamboo straws direct from bamboo straw factory. Stop using plastic straws, switch to more eco-friendly bamboo straws. Bamboo is a renewable material found everywhere in Indonesia. Buy bamboo drinking straws direct from factory and wholesale company in Indonesia. Buy bamboo straws in bulk quantity direct from the factory and enjoy competitive price.