COSTUME JEWELRY EARRINGS BALI INDONESIA
By Jewelryindonesia.com Fashion Jewelry online catalog owned by CV Maya. A manufacturer company for all kind of sea shell jewelry and accessories located in Indonesia. We produce quality fashion jewelry with good quality. Fashion accessories factory Bali Indonesia
Mother of pearl shell earrings from Bali Indonesia. View below our catalog of MOP shell earrings made in Indonesia. These pearl shell ear rings with air brush paintings of tropical flowers hibiscus. Exotic costume jewelry suitable for summer time.
CV MAYA Company is fashion accessories manufacturer located in Bali Indonesia. Please view our latest online catalog of costume jewellery made in Indonesia on our other site www.BaliAccessory.com.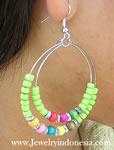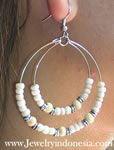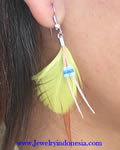 Need more costume jewelry and fashion accessories for ears ? Earrings tunnels plugs and other body jewelry from Bali Indonesia made of organic materials. Visit our sister site www.BatikSarong.com. Click image below. It takes you to our sister site. It's own by the same company CV Maya, the manufacturer and exporter company for fashion accessory and costume jewellery.
Round rattan bags from Bali Indonesia. Shoulder strap bags made of rattan. Handmade in Bali Indonesia. Direct from craftsmen in Indonesia. Available in various sizes.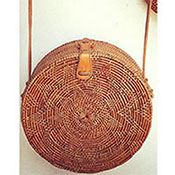 Sea Shell Necklaces from Bali Indonesia. Shell fashion accessories from Indonesia. Browse our catalog of necklaces made of beads combined with cowry shells. Made to order. Wholesale only. Please browse our catalog and place your order now.
Handwoven straw hats from Indonesia. Sun hats beach visor made of lontar palm leaves with elastic band at the back for comfort. Fair trade, handmade by skill craftsmen and craftswomen with years of experience in basketry with wide range of natural materials including rattan and pandanus leaf. These women straw sun visor hats available in various colors with competitive pricing. Contact us by Gmail or chat with us on WhatsApp, Facebook , Instagram or view other Woven Crafts on our LinkTree Page.