Ladies fashion belts made of seed beads combined with seashells, cowry shells and coco shell beads. Wide fashion belts for women. Seashells and beads belts made in Indonesia. Suitable for casual occasion. All handcrafted and made in Bali by skill fashion jewelry craftsmen. Cheap price and good quality. Buy shell belts direct from factory and manufacturer company in Bali Indonesia.

Exchange Rate
We have wide range of fashion belts, made of various materials including coconut shells, cowrie shells, mother of pearl and abalone. Made by women and young girls in Bali and Java Indonesia. Your order for these products help us provide job to many housewives, school girls and village girls across Java and Bali. We consider our jewelry and accessories products as Fair Trade.
Browse our catalog of fashion belts
Beads necklaces with pearl shell pendant made in Indonesia. Available in various colors. Minimum order 30 necklaces
Made to order only. Please order in advance.
Beaded Belt Fashion Accessories from Bali. Click picture above to enlarge!
More fashion belts made in Indonesia is below:
Foot Accessories with Beads. Beaded jewelry for barefoot from Bali Indonesia. Beaded accessory for your feet. Available in various colors and sizes. Need more models ? Email us.
CV MAYA Company is fashion accessories manufacturer located in Bali Indonesia. Please view our latest online catalog of costume jewellery made in Indonesia on our other site www.BaliAccessory.com.
Our business is open on appointment only. Please remember to call first. Please contact us in advance.
Recycled plastic shopping bags from Indonesia. Handwoven plastic tote bags made in Indonesia. Direct from the recycled plastic handbag factory in Indonesia. Handmade by skill handbags artisans with years of experience producing handmade recycled plastic women bags suitable for as shopping bags or beach bags. Large handmade bags direct from plastic bag factory. Very strong and good quality. Durable and colorful. Cheap price, direct from handwoven plastic shopping bags with years of experience exporting Indonesian crafts for oversea buyers.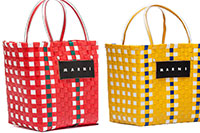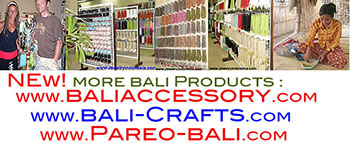 Organic Coconut Sugar from Java Indonesia. 100% Natural Crystal Coconut Sugar. Healthy Unrefined Coconut Palm Sugar. Coconut sugar direct from coconut farms on hills of Java Indonesia. Certified organic coconut palm sugar factory in Indonesia. Place your order for organic coconut sugar here.