Braided bracelets as friendship bracelets made of cords and strings. Comes in various bright colors. For sell in pack of 20 bracelets. But also possible to pack in other quantity. Cheap price and good seller. We also sell these friendship bracelets or surfer bracelets with the jewelry display made of wood. This bracelet holders will make our hand braided bracelets look better. See more Leather friendship bracelets from Bali
Braided Bracelets Fashion Accessories from Bali Indonesia. All fashion accessories and costume jewelry here made to order only.
Bracelet holders in wood. We also sell bracelet stands to match our friendship bracelets.
Cheap price. Only US$ 5.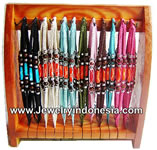 Bracelets jewelry display in wood. Cheap price. Contact us.
CV MAYA Company is fashion accessories manufacturer located in Bali Indonesia. Please view our latest online catalog of costume jewellery made in Indonesia on our other site www.BaliAccessory.com.
Nylon Armbands from Bali Indonesia. Friendship bracelets bali. CLICK TO ENLARGE !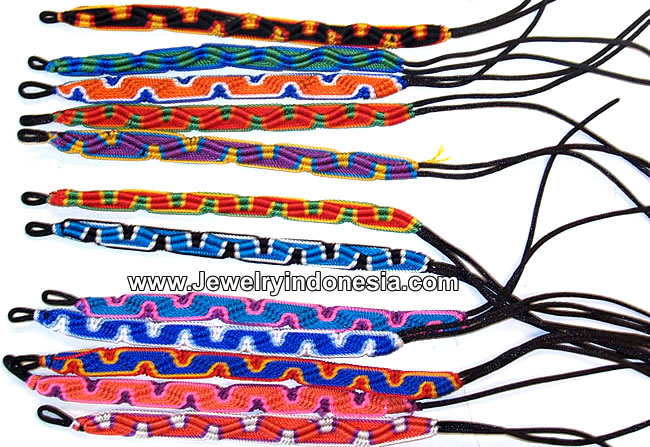 Our company CV MAYA is registered manufacturer located in Denpasar Bali Indonesia. We produce various fashion accessories and costume jewellery made of beads, sea shells, bone, horn wood and stone combined with other natural materials including feathers. Please browse our latest catalog of tribal fashion accessories cowrie sea shells and feathers made into purse, handbags, necklaces and bracelets. We also have Papua necklaces, juju hats and other hanging decorations including dream catchers. Please visit our Instagram Bali Accessory and Facebook Bali Accessory. Place your order on our Online shopping site www.BaliAccessory.com. Please email us if you need help ordering our products. For fast response WhatsApp: +628179731022