Fashion jewelry necklaces made of beads combined with various materials such as seashells, mother of pearl shells, resin, marble stone beads, recycled glass beads, cowries shells etc. The beads of the necklaces and the pendant available in various colors. Please clearly state the color when ordering. All these jewelry necklaces here handmade in Indonesia both in Bali and Java by skill jewelry crafts people. Since this is a handmade jewellery, variation may occur. However, quality is guarantee.
Fashion accessories and costume jewelry from Bali Indonesia. Our company CV MAYA, a manufacturer and exporter company of accessory and jewellery. We produce all jewelry here ourselves including necklaces for men or women, chokers, bracelets and bangles, sea shells earrings and resin, fashion belts for ladies and coco shell handbags. This is why we can offer you quality fashion accessory with cheap price. If you see similar necklaces or other jewelries other place with cheaper price, contact us. We'll offer the same or lower price. Sea shells have long been a popular choice for fashion accessories, particularly in the form of mop shells and mother of pearl shells. These shells are often used to create beautiful and unique necklaces, earrings, and other types of jewelry. In Bali, Indonesia, sea shells are a particularly important part of the local culture and economy. Many companies in Bali specialize in the production of handmade sea shell jewelry, which is then sold wholesale and exported to other countries around the world. Mop shells, also known as abalone shells, are a type of sea snail that is native to the coasts of Bali and other parts of Indonesia. These shells are prized for their iridescent coloration, which ranges from shades of green and blue to pink and purple. Mop shells are often used in the production of costume jewelry, as well as high-end fashion accessories. Mother of pearl shells, also known as nacre, are another type of sea shell that is commonly used in the production of jewelry and other fashion accessories. These shells are prized for their lustrous appearance and smooth, creamy white color. They are often used to create elegant and sophisticated pieces of jewelry, such as pearl necklaces and earrings. In Bali, many small businesses and artisanal workshops specialize in the production of sea shell jewelry. These companies often use traditional techniques and locally-sourced materials to create handmade pieces that are sold both locally and internationally. Many of these companies also offer wholesale options for retailers and other businesses looking to purchase large quantities of sea shell jewelry. In addition to small artisanal workshops, Bali is also home to a number of larger factories and suppliers that produce sea shell jewelry on a larger scale. These companies often use more modern techniques and equipment to mass-produce sea shell jewelry, which is then sold to wholesalers and retailers around the world. Overall, the sea shell jewelry industry in Bali is a thriving and important part of the local economy. It is a major source of employment for many people, and it also helps to bring in revenue and foreign investment to the region. Whether you are looking for handmade, one-of-a-kind pieces or more mass-produced options, Bali has a wide range of sea shell jewelry to choose from. From delicate mop shell necklaces to statement-making mother of pearl earrings, there is something for everyone in the vibrant and diverse sea shell jewelry scene of Bali.
Online catalog of shell and beads necklaces. This page is made to show you all necklaces we have. There're over 500 models for necklaces. These necklaces is fully customizable to meet your requirements. You're welcome to change the pendant of a necklace with pendant of other necklace. See our mother pearl shell pendants catalog. There're even more beads and shells necklaces on our sister site www.Batiksarong.com. We're under the same company CV MAYA. Combined orders is welcome.
Browse our catalog of fashion necklaces costume jewellery from Bali Indonesia

Minimum 50pcs per product code, max 5 color per product code.
Example: Ji P1-1 50pcs (10 black, 10 white, 10 blue, 10 yellow 10 green)
Beaded Necklaces from Bali Indonesia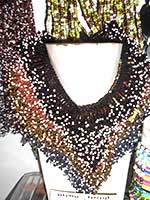 Necklace Page 1

Necklace Page 2
Necklace Page 3
Necklace Page 4
Necklace Page 5

Necklace Page 6
Necklace Page 7

Necklace Page 8
Necklace Page 9

Necklace Page 10

Necklace Page 11

Necklace Page 12
Necklace Page 13
Necklace Page 14

Necklace Page 15
Necklace Page 16
Necklace Page 17
Necklace Page 18
Necklace Page 19

Necklace Page 20

Necklace Page 21
Necklace Page 22

Necklace Page 23
Necklace Page 24

Necklace Page 25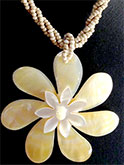 Necklace Page 27
Necklace Page 28
Necklace Page 29
Necklace Page 30
Necklace Page 31

Necklace Page 32
Necklace Page 33
Necklace Page 34

Necklace Page 35
Necklace Page 36

Necklace Page 37
Necklace Page 38
Necklace Page 39
Necklace Page 40
Necklace Page 41

Necklace Page 42
Necklace Page 43
Necklace Page 44

Necklace Page 45

Necklace Page 46

Necklace Page 47
Necklace Page 49
Necklace Page 50
Necklace Page 51

Necklace Page 52
Necklace Page 53
Necklace Page 54
Necklace Page 55
Necklace Page 56

Necklace Page 57
Necklace Page 58
Necklace Page 59
Necklace Page 60
Necklace Page 61

Necklace Page 62

Necklace Page 63
Necklace Page 64
Necklace Page 65
Necklace Page 66
Necklace Page 67

Necklace Page 68
Necklace Page 69
Necklace Page 70
Necklace Page 71

Necklace Page 72

Necklace Page 73

Necklace Page 74
Pearl Shell Necklace P 75
Beads necklaces with pearl shell pendant made in Indonesia. Available in various colors. Minimum order 30 necklaces
Made to order only. Please order in advance.
Download our catalog. Many jewelry and accessories in zip files.
( Right click and save target as)
Please email to us if you have problem downloading the catalog.
We give quick response !

We have many necklace pendants, made of various materials including mother of pearl shells, abalone or paua shell and other materials including resin fibers, corals, ebony wood etc. You're welcome to change the pendant.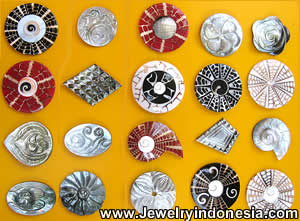 ---
Straw tote bags from Bali Indonesia. Also known as French Baskets, Straw Baskets or Moroccan Straw Bags. Handwoven from straw fiber by skill craftsmen of Bali and Java. Natural straw baskets made in Indonesia. Absolutely beautiful, girls will love it. Wonderful craftsmanship suitable as tote bags, wedding gifts or as beach straw bags. We are able to personalized it with embroidered name. Perfect as bridesmaids gifts or souvenirs. Palm leaf bags from Indonesia. Suitable to use on summer or on the beach. Also possible to use it as home storage. Eco-friendly tote bags, wholesale price for bulk quantity. Factory direct in Indonesia.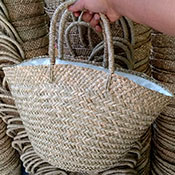 Eco-Friendly Hotel Slippers from Indonesia. Handwoven Natural straw jute sea grass sandals slippers from Bali Indonesia. Cheap Natural Hotel Slippers Sandals from Indonesia. Eco-friendly hotel footwear made of handwoven organic leaves from palm tree, straw, jute, sea grass and other natural materials. All handmade in Indonesia by traditional artisans with years of experience in working with natural fibre for export market. Biodegradable slippers made using pandanus leaf, seagrass and coconut leaf. Cheap price factory direct wholesale only.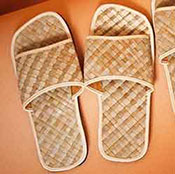 Handmade pandanus hats from Indonesia. Handwoven straws, palm leaves other natural materials made in Indonesia. Various woven leaf hats, handbags and hotel sandals made of hand weave palm leaf. All natural and Eco-friendly handicrafts from Bali Indonesia. Summer hats and hotel footwear made of organic fiber handmade by local artisans in Bali Indonesia. Buy direct from factory in Indonesia. Buy wholesale and enjoy factory direct price. Handmade Woven Straw Raffia and Palm Leaf Hats Sandals Bags All natural woven hats from Indonesia. Beach party hats Hawaiian style hat made from organic pandanus leaf in natural colour. Other colour also available. Summer hats made in Indonesia by traditional artisans. Eco-friendly sandals, handbags and hats handmade in Indonesia.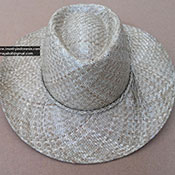 Recycled plastic shopping bags from Indonesia. Handwoven plastic tote bags made in Indonesia. Direct from the recycled plastic handbag factory in Indonesia. Handmade by skill handbags artisans with years of experience producing handmade recycled plastic women bags suitable for as shopping bags or beach bags. Large handmade bags direct from plastic bag factory. Very strong and good quality. Durable and colorful. Cheap price, direct from handwoven plastic shopping bags with years of experience exporting Indonesian crafts for oversea buyers.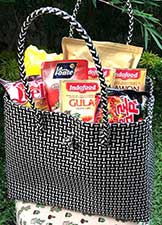 Water Hyacinth Bags from Indonesia. Tote bags, sling bags or shopping bags made of eco-friendly and natural fibers. Handwoven by skill artisans in Indonesia. Water hyacinth bags from Indonesia. Handmade bags made of waterhyacinth. Natural wicker grass. Handwoven bags for woman made of organic fiber waterhyacinth wicker. Large range of women handbags from Indonesia. Eco-friendly fashion products handmade in Indonesia by skill craftsmen and craftswomen with years of experience in producing water hyacinth bags and baskets for oversea buyers. Export quality and competitive pricing, direct from water hyacinth handicrafts producer in Indonesia.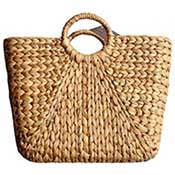 Sea shell crafts and souvenirs made in Indonesia. Shell gifts and decor handmade by artisans and craftsmen in Bali and Java Island. Decorative balls made of seashells. Sea shell balls and spheres in Boho chic styles. We have many models for shell decoration and ornament. All made with real natural sea shells. If you are looking for nautical theme crafts, our sea shell handicrafts is perfect for you. Buy sea shell arts and crafts direct from factory in Indonesia. We have large quantity of sea shells for you. Competitive pricing guarantee. Contact us now. Send email to our Gmail address, chat with us on WhatsApp, Facebook or Instagram and download also our Sea Shell Crafts Catalog, go to our LinkTree Page.

Round rattan bags from Bali Indonesia. Shoulder strap bags made of rattan. Handmade in Bali Indonesia. Direct from craftsmen in Indonesia. Available in various sizes.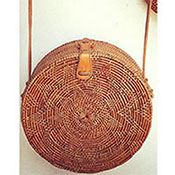 Manufacturer and exporter company for Fashion Accessories Bali Jewelry located in Indonesia. Bali jewelry made of sea shells, pearl shells and abalone shells combined with all kind of beads such as glass beads, Bali silver beads, bone beads, coconut wood and other organic natural beads. Buy wholesale costume jewelry and Hawaiian jewelry. Mother of pearl necklaces. shell jewelry, mother of pearl jewelry beaded necklaces beaded jewelry. Wholesale fashion jewelry, pearl jewelry necklaces, costume jewelry wholesale costume jewelry. We're Bali Beads Wholesale company. Cowry shells and beads necklaces fashion accessories from Bali Indonesia