Wholesale fashion bracelets with cheap price. Bracelets and bangles with beads and shells direct from fashion accessories factory in Bali Indonesia. CV MAYA, manufacturer and exporter company of costume jewelry including bangles and bracelets made of Japanese seed beads (Miyuki or TOHO seed beads) combined with seashells, coconut shell beads, mother of pearl shells (MOP Shells), wooden beads, stone beads etc. We're producer company not buying agent. We made these jewelry and accessories ourselves. Quality is guarantee.
Our company CV MAYA, produce various bracelets such as unisex bracelets, bracelet for men, stretch bracelets and seashells bracelets. Other than that, we also have leather bracelets and hemp bracelets which very popular for teenagers and surfers. Our costume jewelry sell very well during the summer and along the beach or vacation places. You will find our necklaces, bracelets and other body jewelry in exotic places such as Hawaii, Caribbean, Costa Rica, Puerto Rico, Guam, Jamaica, Maldives even in Thailand you can see it.
We're based in Denpasar Bali Indonesia. We have shop and production facility. Come and visit us when you in Bali. Why buy seashells fashion jewelry and costume jewelry from Philippine, India, China or Tibet ? Many importers already proof buying seashells costume jewelry from Indonesia is more profitable. We have quality jewelry and accessories. Your dollar is highly valued here. Contact us now.
Browse our catalog of fashion bracelets and bangles costume jewellery from Bali Indonesia



Minimum 50pcs per product code, max 5 color per product code.
Example: Ji-BrP2-1 50pcs (10 black, 10 white, 10 blue, 10 yellow 10 green)

Exchange Rate
Silver Wire Bracelets Bangles with Beads Jewelry from Bali Indonesia

Page 1
Wood Bracelets

Page 2
Shell and Beads Bracelets

Page 3
Friendship Bracelets

Page 4
Beaded Bracelets

Page 5

Page 6

Page 7

Page 8

Page 9

Page 10

Page 11

Page 12

Page 13

Page 14

Page 16

Page 17

Page 18

Page 19

Page 20 Friendship Bracelets Bali

Page 22

Page 23

Page 24

Page 25

Page 26

Page 27

Page 28

Page 29

Page 30
fashion resin bangle bali indonesia resin bangle manufacturers bali indonesia buy resin bangle bali indonesia resin bracelet bali indonesia acrylic resin bali indonesia resin jewelry bali indonesia wholesale fashion jewelry bali indonesia Fashion Bracelet bali indonesia Wholesale Resin Bangles bali indonesia handmade resin bangles jewelry bali indonesia cheap resin bracelets bali indonesia cheap resin bangles bali indonesia resin accessory resin bangles bali indonesia resin jewellery resin bracelets bali indonesia.
Fashion bracelets and bangles including beaded bracelets with seashells and wooden bangles. We have also handwoven leather bracelets, recyled glass beads, resin and coconut shell bracelets. Wide range of bracelets for men and wooden bangles with silver from Bali.

Painted Wood Bangles Bali Indonesia. CLICK TO ENGLARGE !
Our company CV MAYA is registered manufacturer located in Denpasar Bali Indonesia. We produce various fashion accessories and costume jewellery made of beads, sea shells, bone, horn wood and stone combined with other natural materials including feathers. Please browse our latest catalog of tribal fashion accessories cowrie sea shells and feathers made into purse, handbags, necklaces and bracelets. We also have Papua necklaces, juju hats and other hanging decorations including dream catchers. Please visit our Instagram Bali Accessory and Facebook Bali Accessory. Place your order on our Online shopping site www.BaliAccessory.com. Please email us if you need help ordering our products. For fast response WhatsApp: +628179731022
Our business is open on appointment only. Please remember to call first. Please contact us in advance.
Recycled plastic shopping bags from Indonesia. Handwoven plastic tote bags made in Indonesia. Direct from the recycled plastic handbag factory in Indonesia. Handmade by skill handbags artisans with years of experience producing handmade recycled plastic women bags suitable for as shopping bags or beach bags. Large handmade bags direct from plastic bag factory. Very strong and good quality. Durable and colorful. Cheap price, direct from handwoven plastic shopping bags with years of experience exporting Indonesian crafts for oversea buyers.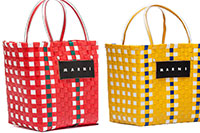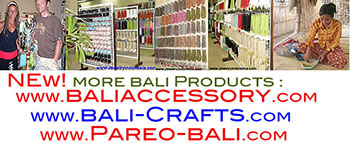 Organic Coconut Sugar from Java Indonesia. 100% Natural Crystal Coconut Sugar. Healthy Unrefined Coconut Palm Sugar. Coconut sugar direct from coconut farms on hills of Java Indonesia. Certified organic coconut palm sugar factory in Indonesia. Place your order for organic coconut sugar here.