Bali Fashion Accessories Online store for fashion accessory and costume jewellery owned by CV Maya. A manufacturer and exporter company for fashion accessories and costume jewelry made in Indonesia.
CV MAYA Company is fashion accessories manufacturer located in Bali Indonesia. Please view our latest online catalog of costume jewellery made in Indonesia on our other site www.BaliAccessory.com.
We're manufacturer company for fashion accessories and costume jewelry made in Indonesia. We produce fashion accessory and costume jewellery with various natural and organic materials such as sea shells, mother of pearl shells, oyster shells, coconut wood, wooden beads etc. These jewelry 100% handcrafted. Made to order only. Please order our jewellery and accessory way in advance.
Click below to go back to Bracelets Fashion Jewelry Accessories from Indonesia Bali Index Page
Links to Bracelets Bangles :
You're here: PAGE 14

Links to Earrings, Tunnel, Rings, Plugs Body Jewelry

Links to Sea Shell Belts, Beads Belts Fashion Belts from Bali Indonesia
Anklets
Bangles
Beads
Belts
Bone Horn Beads Necklaces
Bone Horn Bracelets
Bone Horn Earrings
Bone Horn Pendants
Bracelets
Brooch
Choker Hoops
Coco Beads Coco Necklaces
Coco Bracelets
Coco Earrings
Coco Necklaces
Coco Pendants
Coin Purse
Collectible Wooden Bags
Earrings
Fresh Water Pearls
Gifts Home Decorative Item
Glass Beads Bracelets
Glass Beads Earrings
Hairclips
Hand Painted Bangles

Hand Painted Earrings
Hand Painted Pendant
Hats
Jewelry Box
Jewelry Set
Keychain
Kukui Nuts
Kukui Nuts Jewelry
Leather Bracelets
Leather Necklaces
Lei Polynesian Hawaiian Leis
Long End Less Necklace
Macrame Bracelets
Macrame Necklace
Multicolored Necklaces
Native Bags
Necklaces
Overstock Bargains Jewelry
Pendants
Puka Shell Beads Puka Necklace
Rasta Reggae Necklace
Refrigerator Magnets
Resin Bangles
Resin Earrings
Sandals Slippers

Sarong Buckles
Scarf Necklace
Seed Beads Seeds Necklaces
Seed Bracelets
Seed Earrings
Seeds Necklaces
Shell Bangles
Shell Beads Shell Necklaces
Shell Bracelets
Shell Earrings
Shell Necklaces
Shell Pendants
SurfBoards
Surfers Necklaces
Tribal Ethnic Necklaces
Wet and Wear Bracelets
Wet and Wear Jewelry
Wind Chimes
Wood Beads Wood Necklaces
Wooden Bangles
Wooden Bracelets
Wooden Earrings
Wooden Imitation Kukui Nuts
Wooden Pendants
Bali Indonesia
---
Recycled plastic shopping bags from Indonesia. Handwoven plastic tote bags made in Indonesia. Direct from the recycled plastic handbag factory in Indonesia. Handmade by skill handbags artisans with years of experience producing handmade recycled plastic women bags suitable for as shopping bags or beach bags. Large handmade bags direct from plastic bag factory. Very strong and good quality. Durable and colorful. Cheap price, direct from handwoven plastic shopping bags with years of experience exporting Indonesian crafts for oversea buyers.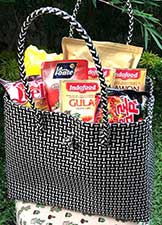 Water Hyacinth Bags from Indonesia. Tote bags, sling bags or shopping bags made of eco-friendly and natural fibers. Handwoven by skill artisans in Indonesia. Water hyacinth bags from Indonesia. Handmade bags made of waterhyacinth. Natural wicker grass. Handwoven bags for woman made of organic fiber waterhyacinth wicker. Large range of women handbags from Indonesia. Eco-friendly fashion products handmade in Indonesia by skill craftsmen and craftswomen with years of experience in producing water hyacinth bags and baskets for oversea buyers. Export quality and competitive pricing, direct from water hyacinth handicrafts producer in Indonesia.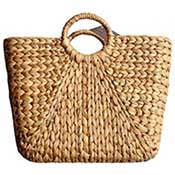 Bamboo straws from Indonesia. Organic and natural bamboo straws direct from bamboo straw factory. Stop using plastic straws, switch to more eco-friendly bamboo straws. Bamboo is a renewable material found everywhere in Indonesia. Buy bamboo drinking straws direct from factory and wholesale company in Indonesia. Buy bamboo straws in bulk quantity direct from the factory and enjoy competitive price.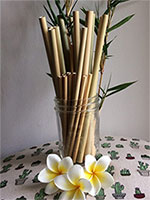 Shop our Bali fashion accessories, place your order using our shopping site Bali Accessory