Sea Shell Rings Wholesale Bali by CV MAYA, Seashell Fashion Accessory Rings Jewelry Company Bali Indonesia
Sea Shell Rings jewelry from Bali Indonesia. All fashion accessories rings and costume jewelry made to order only.
CV MAYA Company is fashion accessories manufacturer located in Bali Indonesia. Please view our latest online catalog of costume jewellery made in Indonesia on our other site www.BaliAccessory.com.
Beads RINGS Costume Jewellery Fashion Jewelry. Fashion accessories beads RINGS
Our company CV MAYA is registered manufacturer located in Denpasar Bali Indonesia. We produce various fashion accessories and costume jewellery made of beads, sea shells, bone, horn wood and stone combined with other natural materials including feathers. Please browse our latest catalog of tribal fashion accessories cowrie sea shells and feathers made into purse, handbags, necklaces and bracelets. We also have Papua necklaces, juju hats and other hanging decorations including dream catchers. Please visit our Instagram Bali Accessory and Facebook Bali Accessory. Place your order on our Online shopping site www.BaliAccessory.com. Please email us if you need help ordering our products. For fast response WhatsApp: +628179731022
Our business is open on appointment only. Please remember to call first. Please contact us in advance.
---
Recycled plastic shopping bags from Indonesia. Handwoven plastic tote bags made in Indonesia. Direct from the recycled plastic handbag factory in Indonesia. Handmade by skill handbags artisans with years of experience producing handmade recycled plastic women bags suitable for as shopping bags or beach bags. Large handmade bags direct from plastic bag factory. Very strong and good quality. Durable and colorful. Cheap price, direct from handwoven plastic shopping bags with years of experience exporting Indonesian crafts for oversea buyers.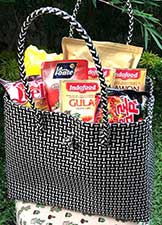 Water Hyacinth Bags from Indonesia. Tote bags, sling bags or shopping bags made of eco-friendly and natural fibers. Handwoven by skill artisans in Indonesia. Water hyacinth bags from Indonesia. Handmade bags made of waterhyacinth. Natural wicker grass. Handwoven bags for woman made of organic fiber waterhyacinth wicker. Large range of women handbags from Indonesia. Eco-friendly fashion products handmade in Indonesia by skill craftsmen and craftswomen with years of experience in producing water hyacinth bags and baskets for oversea buyers. Export quality and competitive pricing, direct from water hyacinth handicrafts producer in Indonesia.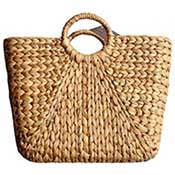 Bamboo straws from Indonesia. Organic and natural bamboo straws direct from bamboo straw factory. Stop using plastic straws, switch to more eco-friendly bamboo straws. Bamboo is a renewable material found everywhere in Indonesia. Buy bamboo drinking straws direct from factory and wholesale company in Indonesia. Buy bamboo straws in bulk quantity direct from the factory and enjoy competitive price.