Necklace displays and stands made of wood direct from jewellery holders and fixtures wholesaler manufacturer company in Indonesia. All kind of jewellery stands such wooden bust, wooden hand, body or torso etc. We have wooden stands for bracelets and earrings. Necklace Figurines Wood.
HANDCRAFTED WOOD JEWELRY DISPLAYS Wooden jewelry displays made in Indonesia. Jewelry display made of wood. Necklace displays made of wood. Displays our exotic jewelry with these exotic and natural wooden bust. Wooden Bust for Necklace Displays Made in Indonesia. Jewelry Displays. Jewellery Stands. Accessories Cases Supply Wooden Bust Body Torso Hand Fixtures Jewelry Hangers
Jewelers Tools Display for Necklaces Chokers Earrings Rings Bracelets Showcase made of Hardwood Wooden Bust Bali
LOWEST PRICE GUARANTEE !!! CONTACT US IF YOU RECEIVE BETTER OFFER FROM OTHER COMPANY. CONTACT US, WE GIVE QUICK RESPONSE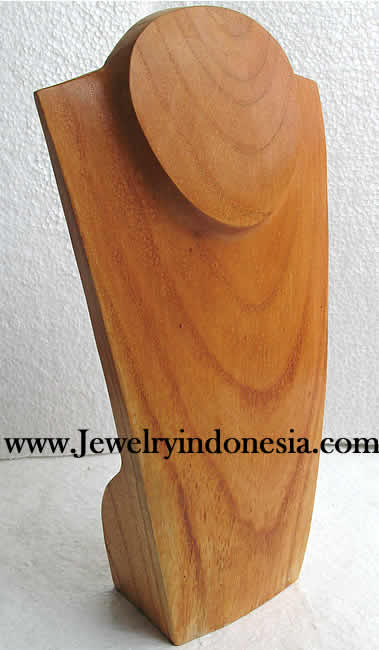 Jewelry Displays Code: JD 1 Necklace holder in wood from Bali Indonesia.
Retail Pricing. EXW Bali:
30cm 12inch Rp 35,000
40cm 16inch Rp 45,000
50cm 20inch Rp 65,000
60cm 24inch Rp 75,000
80cm 32inch Rp 100,000
Visiting Bali Indonesia ? sourcing for costume jewelry from Bali ? Searching for costume jewelry factory or costume jewellery manufacturer ? Our company CV MAYA can help you. jewelry stands jewelry displays wood. Necklace holders wooden busts made in Indonesia. Balinese necklace stands made of wood. Bali wood carvings necklace holders. Jewellery holders.
Links to All Jewelry Displays in Wood from Bali Indonesia Page 1
BACK TO JEWELRY INDONESIA COM HOME PAGE

Jewelryindonesia.Com owned by CV Maya. A manufacturer and exporter company for Bali Fashion Accessories and Jewelry located in Indonesia. Bali jewelry made of sea shells, pearl shells abalone shells combined with all kind of beads such as glass beads, Bali silver beads, bone beads, coconut wood and other organic natural beads. Buy wholesale costume jewelry and Hawaiian jewelry.
Recycled plastic shopping bags from Indonesia. Handwoven plastic tote bags made in Indonesia. Direct from the recycled plastic handbag factory in Indonesia. Handmade by skill handbags artisans with years of experience producing handmade recycled plastic women bags suitable for as shopping bags or beach bags. Large handmade bags direct from plastic bag factory. Very strong and good quality. Durable and colorful. Cheap price, direct from handwoven plastic shopping bags with years of experience exporting Indonesian crafts for oversea buyers.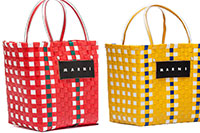 Handwoven straw hats from Indonesia. Sun hats beach visor made of lontar palm leaves with elastic band at the back for comfort. Fair trade, handmade by skill craftsmen and craftswomen with years of experience in basketry with wide range of natural materials including rattan and pandanus leaf. These women straw sun visor hats available in various colors with competitive pricing. Contact us by Gmail or chat with us on WhatsApp, Facebook , Instagram or view other Woven Crafts on our LinkTree Page.