Fashion Jewellery from Bali Indonesia. Currency Exchange Rate
WE WILL USE EXCHANGE RATE THE DAY WE SEND YOU INVOICE

Currently 1 US$ = Indonesian Rupiah IDR Rp 8500 to 9000
1 EUR = Indonesian Rupiah IDR Rp 11,500
More details below:
Please email to us if you have problem

OR USE CALCULATOR FROM XE.COM

Beads and Shells Fashion Jewelry Necklaces from Bali Indonesia
We have many necklace pendants, made of various materials including mother of pearl shells, abalone or paua shell and other materials including resin fibers, corals, ebony wood etc. You're welcome to change the pendant.
Our company located in Denpasar Bali Indonesia
Ph.(62 81) 353357458 Cel/WhatsApp: +628179731022
We're adding new products to our fashion accessories and costume jewellery collection regularly. Please visit our Instagram page Bali Accessory. We recommend you to follow our instagram page. Visit also our Facebook page Bali Accessory. Feel free to email us with questions.
Our business is open on appointment only. Please call first. Please contact us in advance.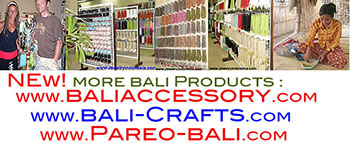 Organic Coconut Sugar from Java Indonesia. 100% Natural Crystal Coconut Sugar. Healthy Unrefined Coconut Palm Sugar. Coconut sugar direct from coconut farms on hills of Java Indonesia. Certified organic coconut palm sugar factory in Indonesia. Place your order for organic coconut sugar here.