This is jewelry and accessories wholesale site owned by CV Maya. Supplier company for fashion accessories and costume jewelry made in Indonesia. . Wholesale only. Made to order jewelry.

ATTENTION USA BUYERS ! if you need "Made in Indonesia" stikers, please contact us
How to Order Our Bali Jewelry and Bali Accessory
THIS SITE USE SHOPPING CART.
Here's how to use it:
A. Fill the quantity. Remember, minimum per item is 30 pieces
B. Type your preferred color here. You're allowed to order in mix colors. Example: 10 black, 10 blue, 10 white. Maximum 3 colors
C. When you done filling the order quantity. Click "Add to Cart" button. Click once. Do NOT double click.
* Review Cart
Click "Review Cart" anytime if you wish to view your cart contents without having to add another product.
REVIEW SHOPPING CART PAGE
D. After you click the "Add to Cart" button, you will find the review shopping cart page. You will be able to modify your order here. To delete an item change to quantity to zero and click "RECALCULATE".
To increase or reduce the order, type the quantity and click "RECALCULATE"
E. Click to go to payments
F.Click to continue shopping
Remember that the list you send us is not an order yet. It's only a "wish list". We will not ask you to transfer any money on line here.

We will ask you to transfer money after we review your "Wish List" and calculate shipping. To give you an idea how much the shipping cost, click here. But this is only to give you an idea. There're various shipping options available.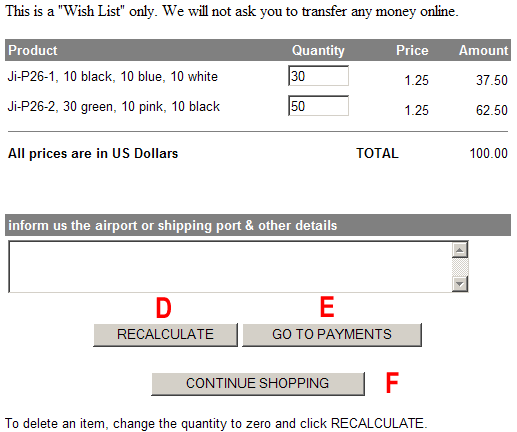 Please don't forget to check your email right after you "check out" and forward the "wish list" to us
Thank you and click the shopping bag below to start shopping ...